Did you know that the global direct marketing industry is worth a huge $44.2 billion? Or that it's been proven that most direct mail is opened? How about this: direct marketing has been around since 1000 BC (visit the British Museum if you don't believe us!).

Not only is direct mail one of the oldest forms of advertising, it's still showing signs of growth: last year, the ANA/DMA Response Rate Report revealed that the direct mail response rate for homes had almost doubled since 2017. Are customers falling in love with this medium again, or is direct mail just more original, clever and downright irresistible than ever before?
More importantly, how can you make sure the direct mail you send stands out from all the other propositions that customers receive? We'll give you our top tips on how to achieve maximum impact with your direct mail and get the returns you want.
Communicate your brand message in your Direct Mail
Always start with your brand message, as this is what differentiates you from the competition. Decide what it is you are wanting to say about your company, then find ways to communicate this through your direct mail design. The Economist wanted to convey the idea that reading their magazine makes people smarter, so they sent 'brain balloons' that grew when they were inflated. And on the subject of smartness, microcar manufacturer Smart expressed how compact their vehicles were by sending miniature direct mail. Those letters certainly stood out from the rest the customers received!

These ideas work so well because, not only do they communicate the brand message in a curious way, they tap into the inner child within us all. But when it comes to direct mail, nothing beats the element of interaction to bring out a playful spirit among audiences. BMW came up with an ingenious way for customers to open their mail: by tearing off a strip that resembled car tracks in the snow. But our favourite has to be WWF's direct mail for Earth Hour, an event encouraging people to switch off their lights for 60 minutes. They sent candles inside boxes designed to look like a building with their lights on. When the candles were removed, the boxes went 'dark'. The inventiveness paid off: corporate participation of Earth Hour increased that year by 260%!

Dare to be different with your Direct Mail
Another great way to make your direct mail stand out is to be creative with your choice of materials. The velvety raised textures of Erre's envelope design gave them a luxurious feel that subtly differentiated them from the other offerings that popped through the letterbox. Experiment with shapes too – look no further than the gruesome hand-shaped direct mail from Kengo Maeda's Night of the Living Dead below for inspiration on how to grab the householder's attention!


Incorporating the shock factor is a sure-fire way of getting your direct mail noticed, and it's up to you to decide how bold you want to be. Touch Branding's blood-storage bags hit all the requirements of creative direct mail: they were original, interactive and made use of interesting materials – but what was the message? They wanted to express how they were willing to 'give their blood for good branding'. Whether you believe this was a little extreme or not, it's undeniable the statement was powerful and certainly made people think about the company in a different way. We'll let you decide and follow suit… if you dare!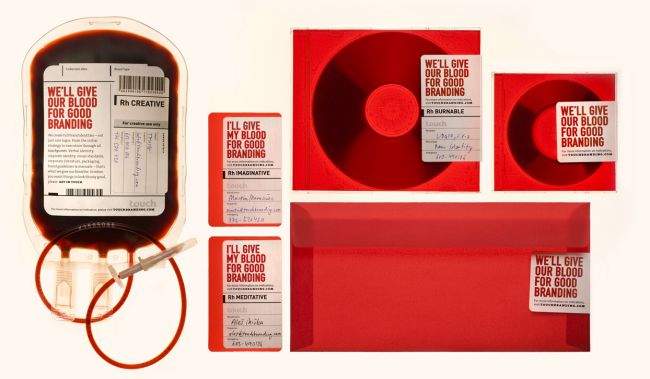 Be entertaining: use humour in your Direct Mail!
Our final tip for making your direct mail stand out is to use humour. After all, if you can give customers some light relief from all the bills and notices they receive through the post, then you've got a much better chance of engagement. But how can you make your direct mail funny? Often, a simple joke can work wonders. Kit Kat's sending up of Royal Mail's 'Sorry we couldn't deliver' cards (because the chocolate bars were too chunky) was surprising and a little silly of course, but they seized attention and raised some giggles. And just why did Škoda add a penny to their direct mail? You only had to open, engage, and find out what the joke was!


These humorous ideas work because they're unexpected. You could also play on the unexpected by offering your customer something useful in your direct mail: an unusual promotional gift that makes the recipient think twice. Greenpeace sent out household gloves to fashion houses in an effort to get them to clean up their supply chains. The sheer novelty of this mail prompted some of the biggest names in fashion to sit up and take part in the charity's 'Fashion Duel' campaign. But the gift can be perfectly useless too, which would be even more unexpected. There's not much use for the Ebike's DIY cardboard cycle helmet, but it definitely made customers smile and hopefully entertained them for an hour or two. What other direct mail succeeded in doing so that day?


If you follow these tips, then you will create direct mail campaigns that not only exceed targets, but have a positive impact on people's lives. This is the secret to direct mail: being creative, daring and funny unlocks its true power – so don't be afraid to stand out!

Asendia offers a wide range of direct mail preparation and delivery services for worldwide distribution. To find out how Asendia can help you reach new customers with your direct mail campaigns, simply contact us today.